On 27 October,
EBB
will present its new
roadmap to 2030 and 2050
at the occasion of its annual policy event. Following the roadmap presentation and a keynote speech by Ms
Henna Virkkunen, Member of the European Parliament
, a roundtable will gather
high-profile speakers
from EU institutions and Europe's fuel, agri-food, and transport industries, who aim to engage in a
constructive dialogue
with European Biodiesel producers. In the context of the "Fit for 55" Package, speakers will discuss the role and contribution of biodiesel as a multitool able to quickly decarbonise a wide array of hard-to-decarbonise sectors.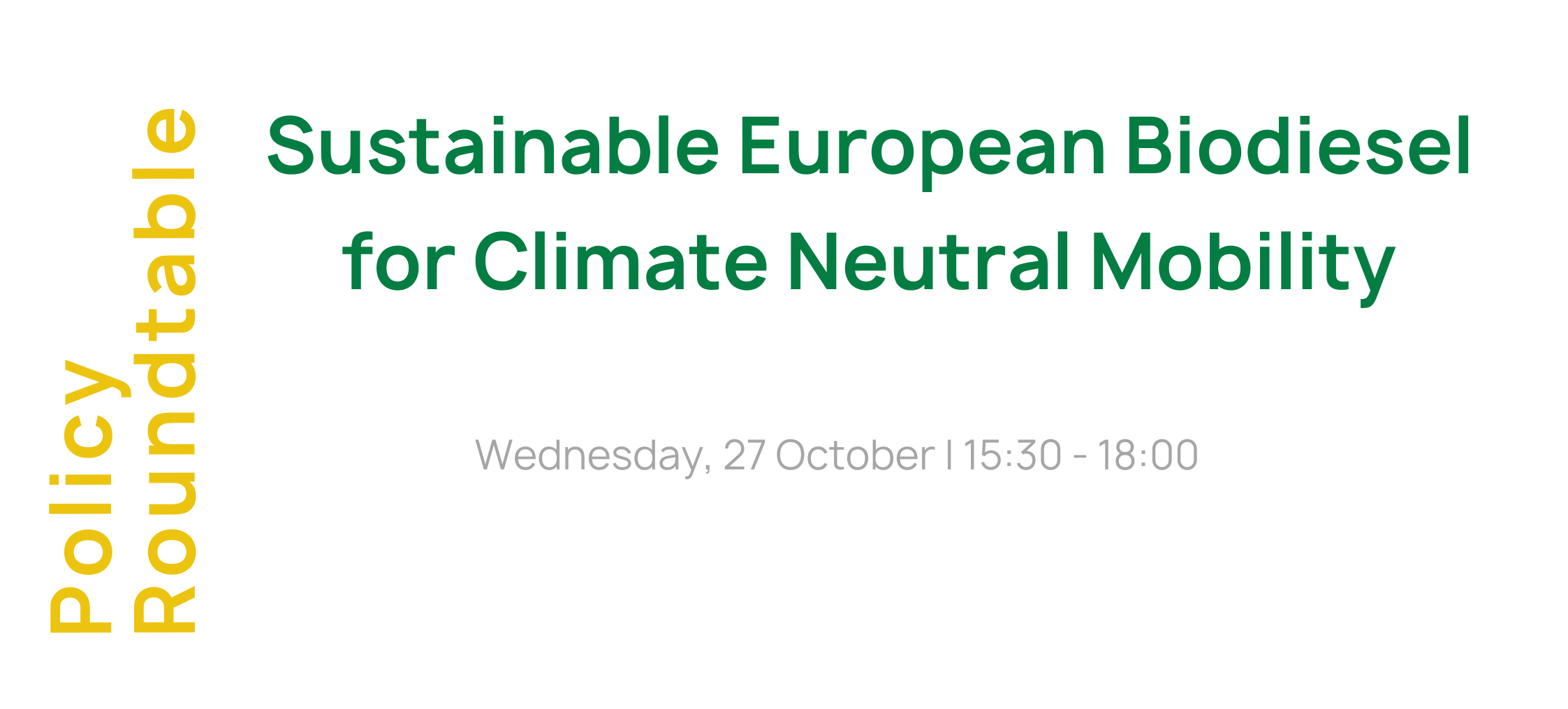 Keynote speech:
Henna Virkkunen, Member of the European Parliament, Finland, EPP Group, ITRE and TRAN
Participants to the round table discussion:
Bernd Kuepker, Policy Officer Decarbonisation and Sustainability of Energy Sources, DG ENER, European Commission
Axel Volkery, Deputy-Head of Unit Sustainable and Intelligent Transport, DG MOVE, European Commission
Alexis Cazin, Managing Director Environmental Markets, Cargill, EBB Vice-President
Myriam Gourmand-Arnaud, Head of Renewable fuels and prospective, Total Energies, EBB Board Member
Christophe Beaunoir, Director General of SAIPOL, Groupe Avril, EBB Member
John Cooper, Director General, Fuels Europe
Sigrid de Vries, Secretary General, CLEPA
Raluca Marian, General Permanent Delegate to the EU, IRU
Gilles Dryancour, Chairman of the Strategic Committee of CEMA - Vice-President Corporate Affairs John Deere
Sotiris Raptis, Acting Secretary General / Director Maritime Safety and Environment, ECSA, European Community Shipowners' Associations
Thomas Reynaert, Managing Director, A4E, Airlines for Europe
Nathalie Lecocq, Director General, Fediol
Emmanuel Desplechin, Secretary General, ePURE
REGISTER HERE TO ATTEND THE EVENT ONLINE
Draft Agenda